Hire Remote

E-commerce


Developer
Hourly  |  Monthly  |  Project Basis
Welcome to our team of exceptional developers, where creativity, expertise, and innovation converge to shape the digital future. Our talented developers are driven by a passion for crafting cutting-edge solutions and turning ideas into reality. With a collaborative spirit and a commitment to excellence, they are dedicated to delivering outstanding results that exceed expectations. Join us on a journey of limitless possibilities as we build a world of technological marvels together.
Read More
With their mastery of Express.js, Angular, and Ruby on Rails, our developers will deliver exceptional results.

  100% Client Satisfaction   

Top Rated     

24/7 Live Support
Who is an E-commerce Developer?
An e-commerce developer is a skilled professional who specializes in creating and maintaining online stores and e-commerce websites. They possess expertise in various web development technologies, programming languages, and e-commerce platforms to design and build robust, secure, and user-friendly online shopping experiences. E-commerce developers play a critical role in setting up product catalogs, implementing payment gateways, ensuring secure transactions, and optimizing the website for seamless navigation and efficient customer interactions. Their goal is to enhance the online shopping journey, maximize sales, and provide a smooth experience for both customers and merchants. With a deep understanding of e-commerce trends and best practices, e-commerce developers are essential in driving the success of online businesses in the competitive digital marketplace.
Responsibilities of
E-commerce Developer
E-commerce developers perform a foremost character in creating and maintaining e-commerce websites that offer a seamless and amusing shopping experience for customers while helping businesses drive sales and growth in the competitive online marketplace. The main responsibilities of an e-commerce developer include:
Website Development
Creating and maintaining e-commerce websites using web development technologies like HTML, CSS, JavaScript, and e-commerce platforms such as Shopify, WooCommerce, Magento, or BigCommerce.
Product Catalog Management
Setting up and managing the product catalog, including adding new products, updating product information, and organizing them into categories.
Payment Gateway Integration
Implementing secure payment gateways to facilitate smooth and secure online transactions for customers.
Shopping Cart Functionality
Developing and optimizing the shopping cart functionality to allow users to add, edit, and remove items before making a purchase.
Order Processing and Fulfillment
Creating efficient order processing systems to manage customer orders and coordinate product fulfillment and shipping.
User Account Management
Building user account systems that enable customers to create accounts, manage their profiles, and track order history.
Website Performance Optimization
Ensuring the e-commerce website loads quickly and performs efficiently, providing a seamless user experience.
Security Implementation
Implement security measures to safeguard customer information, protect against cyber threats, and ensure secure transactions.
Mobile Responsiveness
Ensuring the website is mobile-responsive, providing a user-friendly experience across various devices and screen sizes.
Testing and Quality Assurance
Conducting rigorous testing and quality assurance to identify and resolve bugs and issues, ensuring the website functions flawlessly.
SEO and Marketing Integration
Collaborating with marketing teams to integrate SEO best practices, analytics, and marketing tools to drive traffic and increase conversions.
Continuous Improvement
Staying up-to-date with the latest e-commerce trends and technologies, continuously improving the website's performance and user experience.
When and why do you require an Ecommerce Developer?
You require an E-commerce developer whenever you desire to create or elevate your existing online shopping website, implement customer features, optimize website performance, ensure security, and prove a smooth and sleek shopping experience to your customers.
Setting up a new online store
If you're about to start your online business, you will require an e-commerce developer to develop your website from scratch, making certain that it is tailored to your desired product and brand.
Website redesign
If your existing website needs a revamp to improve its functionality, user experience, or visual appeal, an E-commerce developer can execute the desired changes.
Customization and personalization
If you require custom features, unique functionality, or a personalized shopping experience for your customer, an E-commerce developer can code and utilize these elements.
Mobile responsiveness
To reach customers on various devices, a skilled e-commerce developer can optimize your website for mobile responsiveness, ensuring a smooth and uninterrupted shopping experience on mobile and tab devices.
Payment gateway
If you want to ensure secure and convenient online payment, an e-commerce developer can integrate various payment methods into your website.
performance optimization
To enhance website performance and speed, an e-commerce developer can implement optimization and improve loading time, reducing bounce rates and increasing conversions.
SEO marketing
An e-commerce developer can collaborate with marketing teams to utilize SEO best practices and integrate marketing tools to increase traffic and drive sales.
Security enhancement
To protect your customers' sensitive information, an e-commerce developer implements strong security measures, safeguarding against potential Cyber threats.
Inventory and order management
If you need a system to efficiently manage inventory, track orders, and streamline the fulfillment process, an e-commerce developer can set up such functionality.
Continuous support and maintenance
Even after launching your website, continuous maintenance is essential. An e-commerce developer can provide technical assistance and updates to make certain that your website stays optimized and secured.
1
E-commerce Platforms
We specialize in developing and customizing various e-commerce platforms, including Shopify, WooCommerce, Magento, BigCommerce, and more.
2
Front-End Development
Our expertise lies in creating visually appealing and user-friendly e-commerce websites using HTML, CSS, JavaScript, and modern front-end frameworks like React, Angular, and Vue.js.
3
Back-End Development
 We provide robust back-end solutions, using languages such as PHP, Python, Ruby, and Node.js, to ensure seamless data processing and smooth website functionality.
4
Payment Gateway Integration
Our team integrates secure payment gateways, allowing customers to make hassle-free and safe transactions on your e-commerce website.
5
Mobile Responsiveness
We ensure that your e-commerce platform is fully optimized and responsive across various devices, providing an exceptional shopping experience on smartphones and tablets.
6
Database Management
Our expertise in database management systems like MySQL, MongoDB, and PostgreSQL ensures efficient data storage and retrieval for your e-commerce website.
7
Custom Feature Development
We create tailor-made features and functionalities to meet your specific business needs and enhance user engagement on your e-commerce platform.
8
Third-Party Integrations: 
We smoothly integrate third-party services, such as shipping providers, CRM systems, and inventory management tools, to streamline your e-commerce operations.
9
Security and SSL Certificates
Our focus on security includes implementing SSL certificates and other measures to safeguard sensitive customer data and build trust in your e-commerce website.
10
Analytics and Reporting
We integrate analytics tools to track website performance, user behavior, and sales data, enabling data-driven decision-making for your e-commerce business.
11
SEO Optimization
We implement SEO best practices to improve your website's search engine rankings and visibility, attracting more organic traffic and potential customers to your e-commerce platform.
Hire an Ecommerce Developer
with Vizz
Hiring a developer through Vizz is a simple and efficient process. Follow these three easy steps:
Fill out the Form
Briefly, tell us about your ideas and goals.
Consultation
We will schedule a consultation with you to understand your project requirements in detail. 
Kickstart Your Project
Our resource will be ready to start working on your project.
How do we hire the top talent?
At Vizz, we follow a rigorous hiring process to ensure that we choose the best and most skilled professionals for our team. Here's an overview of our hiring process:
Initial Screening
We start by reviewing resumes and applications received from potential candidates. We assess their educational background, work experience, and relevant skills to shortlist candidates who meet our initial criteria.
Technical Evaluation
Shortlisted candidates undergo a technical evaluation to assess their technical knowledge and expertise. This evaluation may include coding assessments, problem-solving challenges, and technical interviews specific to their domain.
Behavioral Assessment
Apart from technical skills, we evaluate candidates' soft skills and attitudes to determine if they align with our company culture and values. We look for qualities like teamwork, communication, adaptability, and a passion for continuous learning.
Project Experience
Candidates with previous project experience are given preference. We evaluate their past work, contributions to open-source projects, and any relevant certifications to gauge their practical knowledge and achievements.
Interview with Team Lead
Shortlisted candidates have a one-on-one interview with our team leads or project managers. This interview focuses on their specific domain expertise, problem-solving approach, and understanding of industry best practices.
Client-Focused Approach
We emphasize our candidates' ability to understand and prioritize clients' needs. We evaluate their communication skills and ability to work collaboratively with clients and other team members.
Continuous Learning
We look for candidates who show a strong commitment to continuous learning and staying updated with the latest trends and technologies in their field.
Technical and Cultural Fit
A candidate must demonstrate their fit within our technical requirements and align with our company culture and values. We seek individuals who can contribute positively to our team's dynamics.
Reference Checks
Before making a final decision, we conduct reference checks to verify the candidate's professional background and performance.
Vizz E-commerce Developer hiring model
We offer various hiring models based on the specific needs, requirements, resources, and organizational structures
The choice of the hiring models depends on the nature of the project you offer such as budget consideration and time constraints.
Full-Time Employees
We offer a traditional model where you can hire our workers as full-time employees and let them be a part of your team with permanent positions whilst offering benefits and job security.
Remote or Virtual team
You can hire a developer from us to work remotely, leveraging technology for communication and collaboration.

Project-based Hiring
We also offer project-based hiring where you can hire our developers for specific projects and initiatives, providing flexibility and scalability as per project requirements.
Why choose Vizz
What makes us different?
Choose us because we stand apart with our unique blend of expertise, creativity, and dedication. Our team of skilled professionals goes the extra mile to understand your vision and tailor solutions that perfectly align with your business goals. With transparent communication, timely delivery, and a passion for excellence, we create an unparalleled experience that drives success for your projects. Embrace our commitment to innovation, customer-centricity, and a track record of outstanding results, making us the perfect partner for your e-commerce journey.
Expertise and Skill

Our team comprises skilled professionals with extensive experience in e-commerce development.

Customized Solutions

We tailor our services to meet your specific project requirements and business objectives.

Transparent Communication

We believe in open and clear communication throughout the development process.

Timely Delivery

We prioritize delivering projects on time without compromising on quality.

Innovation and Creativity

We bring fresh ideas and creative solutions to enhance your e-commerce platform.

Customer-Centric Approach

Our focus is on understanding and fulfilling your needs to achieve the best results.

Proven Track Record

Our track record showcases successful e-commerce projects and satisfied clients.

Cutting-Edge Technologies

We stay updated with the latest e-commerce trends and technologies.

Collaboration

We work closely with you, ensuring your input is valued and incorporated into the project.

Ongoing Support

We offer dedicated support and maintenance to keep your e-commerce platform running smoothly.
Here are some answers to Frequently Asked Questions.
Q. How much does it cost to develop an e-commerce website?
The cost of developing an e-commerce website varies depending on factors such as the complexity of the project, the number of features required, the chosen platform, and the developer's rates. We provide customized quotes based on your specific project needs to ensure a cost-effective solution.
Q: How long does it take to develop an e-commerce website?
The timeline for e-commerce website development depends on the project's scope and requirements. A basic website may take a few weeks, while a more complex platform might take several months. We work closely with you to establish realistic timelines and deliver your e-commerce website within the agreed-upon timeframe.
Q. Can you integrate my existing inventory system with the e-commerce website?
Yes, we can integrate your existing inventory system with the e-commerce website, ensuring seamless synchronization of product data, stock levels, and order processing.
Q. Will my e-commerce website be mobile-friendly?
Absolutely! We prioritize mobile responsiveness, ensuring that your e-commerce website delivers an optimal shopping experience on various devices, including smartphones and tablets.
Q. Can I easily update and manage my products on the website?
Yes, we provide user-friendly content management systems (CMS) that allow you to easily add, edit, and manage your products, categories, and pricing without technical expertise.
Q. Is it possible to add new features or expand my website in the future?
Certainly! Our e-commerce solutions are designed with scalability in mind. We can add new features, expand functionality, and accommodate your business's growth as needed.
Q. Will you provide ongoing support and maintenance?
Yes, we offer ongoing support and maintenance services to ensure your e-commerce website remains secure, up-to-date, and running smoothly. Our dedicated team is available to address any issues and provide timely updates as required.
Q. Can you help with SEO and digital marketing for my e-commerce website?
Absolutely! We offer SEO optimization services to improve your website's search engine visibility and digital marketing strategies to drive traffic and boost conversions, helping your e-commerce business thrive online.
Q. How can I track the performance of my e-commerce website?
We integrate analytics tools, such as Google Analytics, to provide detailed insights into website traffic, user behavior, and sales performance, empowering you to make data-driven decisions for your e-commerce business.
Q. Is my customer data and payment information secure on the website?
Yes, we prioritize the security of your e-commerce website and customer data. We implement SSL certificates and follow industry best practices to ensure a secure and trustworthy online shopping environment for your customers.
Learn More About What We Can Offer For Your Business Our Experience Allows Us To Transform Any Idea Into A Ready-To-Use Product.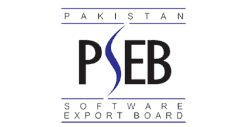 We hold Pakistan Software Export Board (PSEB) certification as a registered IT Company.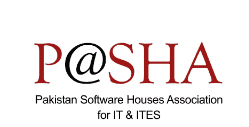 Vizz Web Solutions is a member of Pakistan Software Houses Association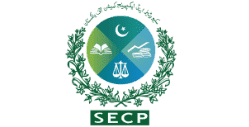 Vizz Web Solutions is a certified Private Limited Enterprise under SECP Pakistan.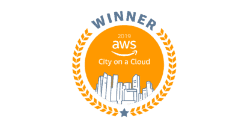 Our application Homesafe1st won AWS Innovation Challenge Award in 2019.
Won AWS Innovation Challenge Award In 2019.
Our application Homesafe1st won AWS Innovation Challenge Award in 2019.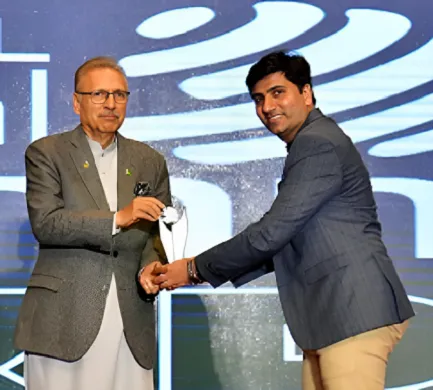 Best Emerging Technology Enterpreneur
President of Pakistan Mr. Arif Alvi giving best Emerging Technology Enterpreneur Award to Mudasser Abbas, the CEO of Vizz Web Solutions.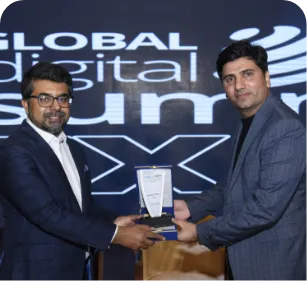 CXO Global Forum
CXO Global Forum Appreciating Vizz Web Solutions on their Efforts
Won AWS Innovation Challenge Award In 2019.
Our application Homesafe1st won AWS Innovation Challenge Award in 2019.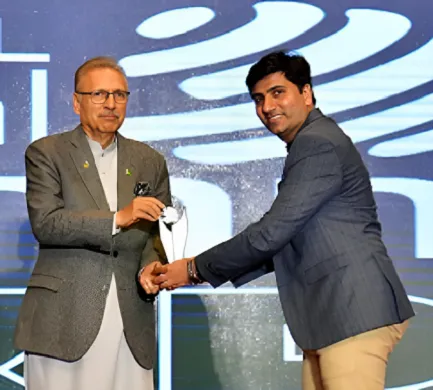 Best Emerging Technology Enterpreneur
President of Pakistan Mr. Arif Alvi giving best Emerging Technology Enterpreneur Award to Mudasser Abbas, the CEO of Vizz Web Solutions.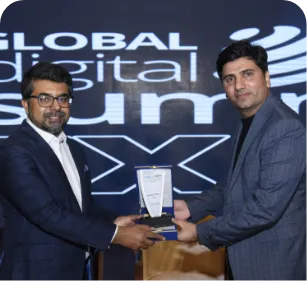 CXO Global Forum
CXO Global Forum Appreciating Vizz Web Solutions on their Efforts