Agile Mobile App

Development


Services
Our Expertise – Your Success
With more than 1200 completed projects to our credit, Vizz Web Solutions is a mobile app development firm that provides full-cycle development services according to your organization's requirements. From conception to publication, we have you covered.
Read More
Vizz Web Solutions, as programming language specialists, can create cross-platform mobile applications that function on any device or platform. Businesses and organizations can be confident that their final deliverable, regardless of the technology it is built on, will be safe, scalable, and sustainable in whichever environment it is hosted by selecting Vizz Web Solutions for their bespoke mobile application development requirements.

  100% Client Satisfaction   

Top Rated     

24/7 Live Support
Agile Mobile App Development Services
Vizz Web Solutions Provides
As a top agile mobile app development firm, we provide a wide range of services to meet all of your mobility demands. We lend an extensive selection of agile mobile development solutions, from consulting and team augmentation to full-cycle mobile app development services.

Android App Development
The widespread use of hardware presents both unique possibilities and problems for the Android operating system. No matter what stage of development your app is in, Vizz Web Solutions's senior developers can reduce the challenges offered to app design while supporting app production and assist place it in the top rankings of Google Play.
iOS App Development
Working with iOS allows you to collaborate across three key platforms—the iPhone, iPad, and Apple Watch—each with its potential. The developers at Vizz Web Solutions have created applications for every genre, including games, finance, business apps, and more, and have even made it into the App Store's top 10.

Cross-Platform Mobile App Development
A good technique must be followed by top professionals to bypass native development and shorten the time to launch. To keep and satisfy consumers, the influence on UX design must be kept to a minimum. If done right, developers may make the most of native platforms' features while simultaneously using shared business logic.

On-Demand Python Software Development
Vizz's entire team of designers and developers is dedicated to assisting you in your project. We offer on-demand development services for your Python software development. No matter which phase your project is, you can hire a Python software developer from Vizz and leverage our developer's expertise to help your project reach the very end! We will start the development process for your Python software from any step.
Industries We Serve
Regardless of your industry, we have you covered. Our area of specialization encompasses a broad range of business sectors. We want to provide you with a superb development plan that is tailored to the particular needs of your company.
Our Process for Agile Mobile App
Development Services
Working with our seasoned mobile app developers, your outcomes are predictable. We ensure that your time and money are optimized at every stage of development using an agile methodology and a proactive attitude, and you receive a digital product that completely satisfies your needs and is even beyond your expectations.
We craft each part of your mobile app product with care! With the depth of expertise, Our developers design, re-design, and develop your mobile app. Our team of qualified QA testers implements best practices to ensure your mobile app is high-performing and scalable.
Know Your Requirements
We support your product marketing efforts! We start by looking at the intended audience. The goals and target market for your mobile app project. Our programmers and designers are aware of your company's objectives and employ the best techniques to create a mobile app that meets those demands. The following phase is started after our staff is certain about your project.
Blueprinting
Concerning your mobile app development service, we employ a high-level plan. We develop the plan based on the size of your project. Flowcharts and drawings make up our blueprint. Our group of programmers follows the plan to comprehend what would happen next. Our developers are keeping track of the situation till the anticipated results are implemented.
Mobile App Design
We build a great design for your program while adhering strictly to the requirements of your project. The color palette, images, icons, templates, and user experience are all worked on by our skilled developers to guarantee that the final design surpasses their expectations. The completed design is subsequently shown to our clients, who provide comments and, as necessary, request revisions.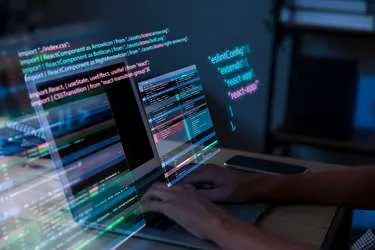 Mobile App Development
Our developers begin the development process by developing codes in the programming languages they have selected. Our programmers design frameworks and integrate APIs into your mobile app. Our developers, who are professionals in the newest tech stack, expedite and streamline the procedure. We provide a dependable, efficient mobile app that efficiently promotes your company.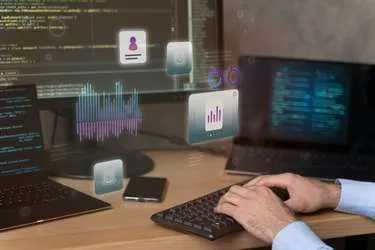 Robust Testing
To make sure that your product is error-free and functioning across a variety of platforms, Vizz's team of skilled QA engineers use rigorous testing procedures. Our QA testers make sure that your product is scalable and high-performing since user pleasure is crucial for its success.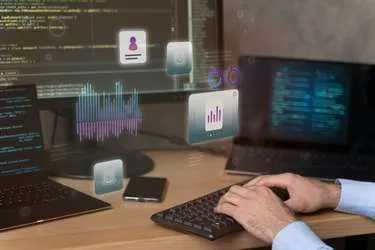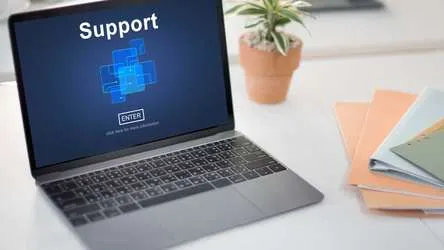 Maintenance and Support
We want to avoid any possible segregation! The process of creating our mobile app is ongoing after deployment. We make ensuring that your mobile app is current and working well throughout time. As your company expands, we maintain your mobile app and make new adjustments.
Call Us
Since 2009, Vizz Web Solutions stands as a preeminent global IT company, we have a proven track record with 1200+ cutting-edge software services delivered.
Get Connected
Request Our Portfolio
As a leading global IT solution provider company, we have delivered 1200+ successful projects worldwide. We provide web and IT solutions to startups, businesses, and entrepreneurs.
Tech Stack We Use
Vizz Web Solutions's team of experts leverages the latest technologies to develop outstanding software for your business. We ensure to choose the right tech stack that covers all the aspects of your software product!
Vizz Web Solution's Agile Mobile
App Development Team
From our worldwide talent network, we assemble teams of the best software engineers, designers, project managers, and product managers that are tailored to your company's demands and operational procedures. Each candidate is chosen based on their years of experience working in managed teams and their subject matter competence.
Developers
senior programmers, coders, and architects knowledgeable in a wide range of technologies.
Designers
A wide spectrum of illustrators, animators, and other designers who are experts in UI, UX, visual, and interaction design.
Project Managers
Having proficiency in a variety of PM tools, frameworks, and approaches, including digital and technical project managers, scrum masters, and more.

Product Managers
Scrum product owners and digital product managers with experience in a range of sectors, including e-commerce, finance, and healthcare.
Why Choose Vizz For Agile Mobile App Development Services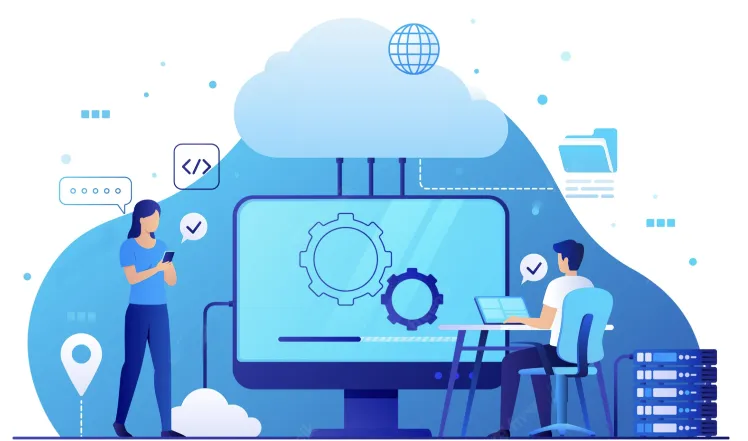 We have mastered the art of developing mobile applications. Our highly skilled iOS developers, Android developers, and designers have years of expertise, and they produce cutting-edge, responsive, and interesting mobile applications. At Vizz Web Solutions, we specialize in developing end-to-end customized mobile solutions utilizing the most recent technology with a smooth interface, easy navigation, and great graphics. Businesses, startups, creative studios, and technology firms depend on us to help them grow their internet presence for mobile app development. The mobile products we've developed for our partners and clients over the years have garnered several accolades, increased sales, and opened up new revenue streams for our clients.
We are a group of seasoned developers.
Our team makes use of modern tools.
We make things scalable and transparent.
We provide the best IT solutions.
Developing unique Mobile Apps.
We create strong architectural systems.
We comprehend the nature of your project and your sector! Give us the details of your project, and we'll respond right away!
Briefly describe your needs.
Obtain a unique proposal.
Begin your growth process.
PETER FLETCHER

Residential Settlements

Vizz Web Solutions have just completed a major overhaul on my site. I was impressed by their professionalism throughout the project. I was a pain in the butt client but they kept completing revisions until I was 100% happy with the result. I have no hesitation in recommending their services.

Doug Kyle

Digiebot

Abbas was great to work with. I have started worked with him from 2016-March. I found his team excellent in web application development. They have developed for me, my business website, some marketing tool, crowdfunding web application. I am still taking long term services from his dedicated team. Beenish is best in web designing. She is proactive, able to communicate effectively and work on multiple projects with deadlines.

Ryan Fiscar

Build LMS website (e-learning Course)

Abbas and his team are friendly and good with communication. This is the 3rd software/application that they have built for our company. This time, they built a custom coded LMS from the ground up, including courses, chats, chat notifications, support center, credit card processing gateway integration, transferred databases, etc.

Amir Danaei

Callers IQ

Best development team! I have worked with many development teams and these guys are excellent. Abbas is a great communicator and always available when you need him. I have been working with this team on a long term project and I could not be happier with the quality of work and turnaround time. Highly recommend!!

HANS HUO

Causeblast

Outstanding service, Abbas has been very attentive, assertive, and able to grasp a concept and bring it to life. With Abbas's keen and able to do approach Abbas will bring Vizz Web Solutions into new territory. I plan on sticking with these developers, and we have much to do. Thanks again Abbas and Team coding make it all happen.

KEITH ARMBRECTH

Medicare on Video

Thoroughly enjoyed working with these guys. They're prompt, good communicators and work quickly and efficiently. Will be using them again.
Methodlogies Vizz Offers
We strive to completely comprehend your company concepts and make the mobile app development process efficient, streamlined, and controllable. We use important techniques to speed up the process and simplify the chores. As a Mobile App development methodology, Vizz Web Solutions is obligated to know how to investigate your business requirements!
Agile Approach
We extend the Agile methodology approach to make sure your mobile app project is finished on time and within the specified budget. Our method helps the mobile app development team and the product owner communicate more effectively.
Scrum Implementation
To provide seamless self-organization towards the work goal, Vizz offers scrum framework installation. Our developers are skilled at managing changes and picking up new experiences.
Sprint-Based Development
We enhance sprint-based development to produce work quickly and well. Our mobile app development team uses sprint-based development to better comprehend the requirements of your project and put best practices into action to provide cutting-edge mobile app solutions.
Our Agile Mobile App Development Hiring Models
Employ mobile app developers with advanced technical expertise in Native and Cross-platform mobile development technologies to get premium quality results. With value-driven and user-focused mobile applications that provide your company and brand a tremendous boost, cleverly overcome the fierce market rivalry.
Dedicated Team Model
Implement the expertise of our committed mobile app development team, which is only focused on your project. We turn your concept into reality using agile approaches and open communication.
Hire A Developer Model
Our Hire a Developer concept provides unparalleled freedom. Maximum control with the least amount of overhead, and see your ideas come to life one line of code at a time.

Fixed Hours Model
With our fixed-hours concept, accuracy and efficiency are combined. Within the allotted period, our talented mobile app engineers actively endeavor to complete milestones.
Benefits Of Our Agile Mobile App Development Services
Scalable Mobile App Development.
User-centric UI/UX design.
Dedication to excellence.
Delivery on schedule
Utilise cutting-edge Technology
Domain Knowledge is at Hand
Always-on Support.
Q: What is the agile approach to mobile app development?
Agile development approaches place a strong emphasis on accepting change at all stages. Incorporating new features, adjustments, and additions during each sprint with this iterative strategy helps to maintain the mobile app's alignment with changing business objectives and user expectations.
Q: Is agile an application development?
Agile is a process for software development in which needs and solutions are continuously refined via cooperative teamwork, ongoing planning, and ongoing learning. Teams can produce apps more quickly and adapt to changes thanks to the application development methodology.
Q: Why choose Agile for mobile app development?
Several procedures go into developing an Android or iPhone app. Each of them is strengthened by the agile methodology's complete solutions for enhancing the applications' usefulness and functionality. Throughout the development process, it permits modifications and upgrades.
Q: Why do mobile app developers use agile methodology?
Agile development is crucial because it makes sure that development teams finish tasks on schedule and budget. Additionally, it aids in enhancing communication between the product owner and the development team. The agile development style can also aid in lowering the risks connected with complicated projects.
Call Us
Since 2009, Vizz Web Solutions stands as a preeminent global IT company, we have a proven track record with 1200+ cutting-edge software services delivered.
Get Connected
Hire A developer from Vizz Web Solutions and get access to the pool of talent. We combine dedicated engineers, excellent tech skills, and dynamic project ideas to assist your business!