Hourly  |  Monthly  |  Project Basis
We are a group of passionate and proficient web developers dedicated to developing exceptional online experiences. From sleek and responsive designs to powerful and interactive functionalities, we have the expertise to morph your digital vision into actuality. With a creative flair and a passion for all things tech, we thrive on pushing the boundaries of what's possible in the digital world. Join hands with us, and together, let's build the web presence that sets you apart and leaves a lasting impression on your audience.
Read More
With their mastery of Express.js, Angular, and Ruby on Rails, our developers will deliver exceptional results.

  100% Client Satisfaction   

Top Rated     

24/7 Live Support
A web developer is a skilled professional accountable for crafting and maintaining websites and web applications. They possess expertise in various programming languages such as HTML, CSS, JavaScript, and others, enabling them to design and build functional and visually appealing online platforms. Web developers collaborate with web designers, content creators, and other team members to translate ideas and designs into fully operational websites that cater to the needs of clients and users. Their role encompasses both front-end development, where they work on the user interface and interactive features, and back-end development, involving server setup, database management, and handling server-side functionalities. Throughout the development process, web developers conduct rigorous testing to identify and fix bugs, ensuring that the website functions flawlessly and offers a seamless user experience. Their technical expertise and creativity play a vital role in shaping the digital landscape, contributing to the dynamic and ever-evolving world of the internet.
What are the responsibilities of a Web Developer?
The responsibilities of a web developer may differ depending on their precise role and the category of the project. However, some common responsibilities of web developers include:
Website Development
Building and conserving websites utilizing programming languages like HTML, CSS, and JavaScript to create functional and visually appealing user interfaces.
Front-End Development
executing the design and user interface elements of the website, ensuring responsiveness and optimal user experience across different devices.
Back-End Development
Handling server-side functionalities, database management, and server configuration to enable seamless data processing and interactions.
Web Application Development
Creating web applications with interactive features and complex functionalities to meet specific business requirements.
Testing and Debugging
Conduct thorough testing to identify and fix bugs, ensuring the website functions smoothly and meets quality standards.
Optimization
Optimizing website performance to improve loading times, enhance user experience, and ensure efficient use of server resources.
Cross-Browser Compatibility
Ensuring that the website is compatible with various web browsers to provide a consistent experience to all users.
Security Implementation
Implementing security measures to protect the website from potential vulnerabilities and cyber threats.
Content Management
Integrating content management systems (CMS) to allow clients or users to update website content easily.
Collaboration
Working closely with designers, content creators, and other team members to align the website's functionality with the overall project vision.
Maintenance and Updates
Continuously monitoring and updating the website to ensure it remains up-to-date, secure, and compatible with evolving technologies.
Problem-Solving
Troubleshooting and resolving technical issues that may arise during development or after deployment.
Overall, web developers are essential contributors to the digital landscape, leveraging their technical skills and creativity to bring web projects to life and provide users with seamless online experiences.
Skills a Web Developer must have
A skilled web developer should possess a diverse set of technical and non-technical skills to excel in their role. Here are some essential skills a web developer must have:
Proficiency in Web Technologies
Strong knowledge of web development languages and technologies such as HTML, CSS, JavaScript, and related frameworks (e.g., React, Angular, Vue.js).
Responsive Design
Ability to create responsive and mobile-friendly websites that adapt to different screen sizes and devices.
Server-Side Development
Understanding of server-side languages and frameworks like Node.js, PHP, Python, Ruby, or Java for handling data and server interactions.
Database Management
Familiarity with database systems like MySQL, MongoDB, or PostgreSQL for efficient data storage and retrieval.
Cross-Browser Compatibility
Knowledge of ensuring websites work consistently across different web browsers.
Version Control
Experience with version control systems like Git to manage code collaboration and tracking changes.
Problem-Solving
Strong analytical and problem-solving skills to troubleshoot and debug issues that may arise during development.
Creativity and Design Sense
Ability to work with web designers and translate their designs into functional and visually appealing user interfaces.
Testing and QA
Familiarity with testing frameworks and practices to ensure the website functions flawlessly and meets quality standards.
Time Management
 Effective time management and organizational skills to meet project deadlines and milestones.
Continuous Learning
Willingness to stay updated with the latest web development trends, technologies, and best practices.
Communication and Collaboration
Strong communication skills to work effectively with cross-functional teams, clients, and stakeholders.
Security Awareness
Knowledge of web security best practices and protocols to protect websites from potential vulnerabilities.
Content Management Systems (CMS)
Familiarity with popular CMS platforms like WordPress, Joomla, or Drupal for content management.
Hiring a skilled Web Developer through Vizz!
With Vizz, you gain a strategic partner dedicated to transforming your digital vision into reality. Our web developers bring unparalleled expertise, creativity, and dedication to every project, ensuring you receive an outstanding web solution that helps your business thrive in the competitive online landscape.
1
Expertise
Our pool of web developers comprises skilled professionals with diverse expertise, ensuring you get the perfect fit for your specific project requirements.
2
Tailored Solutions
We understand that every project is unique. Our web developers tailor solutions that align precisely with your vision and business goals.
3
Innovation and Creativity
At Vizz, we thrive on innovation and creativity. Our web developers bring fresh ideas and cutting-edge solutions to elevate your online presence.
4
Ideal Collaboration
We foster seamless collaboration, ensuring our web developers work closely with your team to ensure a smooth and efficient development process.
5
Timely Delivery
We prioritize delivering projects on time without compromising quality, helping you launch your website or application within the desired timeframe.
6
Cost-Effectiveness
Our flexible hiring models offer cost-effective solutions, allowing you to access top-tier web developers without breaking the bank.
7
Quality Assurance
Rigorous testing and quality assurance processes guarantee a flawless final product that meets your standards and exceeds expectations.
8
Dedicated Support
Our commitment doesn't end with the project. We offer ongoing support and maintenance to ensure your website remains in optimal condition.
9
Cutting-Edge Technologies
Vizz stays up-to-date with the latest web development technologies, ensuring your website is built using the most advanced tools and frameworks.
10
Transparent Communication
We believe in transparent communication, keeping you informed at every stage of the development process, ensuring a smooth and stress-free experience.
Hire the best Web developer in
three simple steps with Vizz
Hiring a developer through Vizz is a simple and efficient process. Follow these three easy steps:
Fill out the Form
Briefly, tell us about your ideas and goals.
Consultation
We will schedule a consultation with you to understand your project requirements in detail. 
Kickstart Your Project
Our resource will be ready to start working on your project.
At Vizz, our hiring process through interviews and testing is designed to identify the best web developers who align with our company values and possess the skills required to deliver exceptional results. Here's a glimpse into our unique approach:
Initial Screening
We begin by reviewing resumes and applications to shortlist candidates with relevant experience and qualifications.
Technical Interviews
Shortlisted candidates participate in technical interviews with our experienced developers. We assess their problem-solving abilities, coding proficiency, and understanding of web development principles.
Code Review
We ask candidates to share their previous code samples or projects. Our team conducts a thorough code review to assess coding standards, best practices, and attention to detail.
Collaboration Assessment
To evaluate teamwork skills, candidates collaborate with our developers in a mock project. This assessment helps us gauge how well they work in a team environment.
Problem-Solving Challenge
We present candidates with real-world web development challenges and assess their creativity and problem-solving skills.
Soft Skills Evaluation
Communication and collaboration are crucial. Our interview process includes assessing candidates' soft skills, and ensuring they can effectively communicate with clients and team members.
Cultural Fit
We believe in fostering a positive work environment. During interviews, we evaluate how candidates align with our company culture and values.
Final Round
Top candidates undergo a final round of interviews with senior management to ensure they meet all expectations.
Technical Testing
To verify technical skills, candidates may complete coding tests or real-time development tasks.
Offer and Onboarding
Once we find the best fit, we extend an offer and ensure a smooth onboarding process.
Vizz Web Developer hiring model
We offer various hiring models based on the specific needs, requirements, resources, and organizational structures
The choice of the hiring models depends on the nature of the project you offer such as budget consideration and time constraints.
Full-Time Employees
We offer a traditional model where you can hire our workers as full-time employees and let them be a part of your team with permanent positions whilst offering benefits and job security.
Remote or Virtual team
You can hire a developer from us to work remotely, leveraging technology for communication and collaboration.

Project-based Hiring
We also offer project-based hiring where you can hire our developers for specific projects and initiatives, providing flexibility and scalability as per project requirements.
Choosing us leads you to a transformative partnership that sets the stage for your success. Here are the compelling reasons to choose us:
Expert team of skilled web developers

Our team comprises highly skilled and experienced web developers who possess a deep understanding of web technologies and frameworks. They have a track record of successfully delivering various web development projects, showcasing their expertise in the field.

A creative and innovative approach to web development

We believe in thinking outside the box and infusing creativity into every project we undertake. Our developers leverage their creativity to design visually appealing and engaging websites that leave a lasting impact on visitors.

Tailored solutions that align with your vision and business goals

We listen carefully to your requirements and objectives, tailoring our web development solutions to meet your specific needs. Our goal is to ensure that the final product aligns perfectly with your vision and helps you achieve your business goals.

Collaborative development process, incorporating your ideas and feedback

We value your input and actively involve you throughout the development process. Your ideas, feedback, and suggestions are crucial in shaping the project, ensuring a collaborative and satisfying experience.

Proven track record of delivering exceptional results

Our portfolio showcases a history of successful projects and satisfied clients. We take pride in our ability to consistently deliver high-quality web solutions that exceed expectations.

Timely project delivery and efficient communication

We understand the importance of timely delivery and transparent communication. Our team ensures that projects are completed within the agreed-upon timeframe, and we keep you informed about the progress every step of the way.

Cost-effective solutions to suit your budget

We offer competitive pricing and cost-effective web development solutions without compromising on quality. We aim to deliver value for your investment, regardless of the project's scale.

Cutting-edge technologies and industry best practices

Our web developers stay up-to-date with the latest technologies and industry best practices. This ensures that the websites we create are modern, efficient, and aligned with current trends.

Focus on building a strong and impactful web presence

We understand the significance of a powerful web presence in today's digital landscape. Our web development services are geared towards creating websites that make a strong impression and drive results for your business.

Dedicated support and maintenance for ongoing success

Our relationship with you does not end with the completion of the project. We offer dedicated support and maintenance services to ensure that your website continues to perform optimally and stays up-to-date with evolving web standards.
Learn More About What We Can Offer For Your Business Our Experience Allows Us To Transform Any Idea Into A Ready-To-Use Product.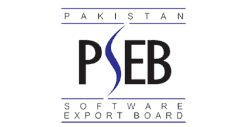 We hold Pakistan Software Export Board (PSEB) certification as a registered IT Company.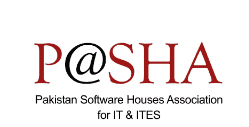 Vizz Web Solutions is a member of Pakistan Software Houses Association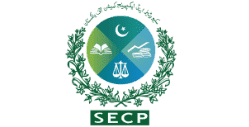 Vizz Web Solutions is a certified Private Limited Enterprise under SECP Pakistan.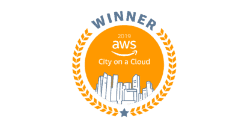 Our application Homesafe1st won AWS Innovation Challenge Award in 2019.
Won AWS Innovation Challenge Award In 2019.
Our application Homesafe1st won AWS Innovation Challenge Award in 2019.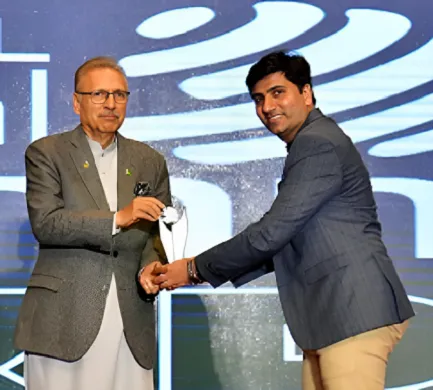 Best Emerging Technology Enterpreneur
President of Pakistan Mr. Arif Alvi giving best Emerging Technology Enterpreneur Award to Mudasser Abbas, the CEO of Vizz Web Solutions.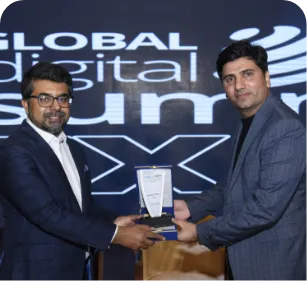 CXO Global Forum
CXO Global Forum Appreciating Vizz Web Solutions on their Efforts
Won AWS Innovation Challenge Award In 2019.
Our application Homesafe1st won AWS Innovation Challenge Award in 2019.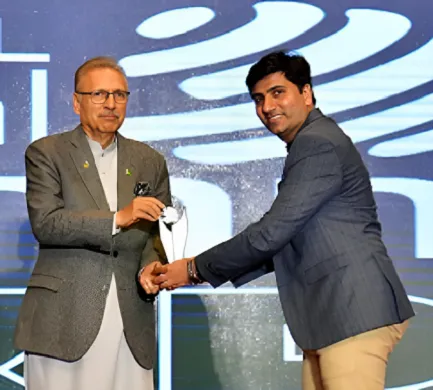 Best Emerging Technology Enterpreneur
President of Pakistan Mr. Arif Alvi giving best Emerging Technology Enterpreneur Award to Mudasser Abbas, the CEO of Vizz Web Solutions.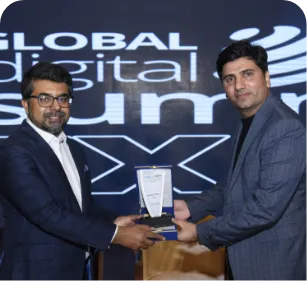 CXO Global Forum
CXO Global Forum Appreciating Vizz Web Solutions on their Efforts