Progressive Web

Development


Services
With an impressive experience, Vizz's team offers a user experience with fast, reliable, and engaging Progressive Web development!
Read More
Want to build a progressive web development? Vizz has got you covered! Our developers possess expertise in crafting innovative progressive web applications that are accessible everywhere and anywhere. We offer robust and sleek progressive web development services that meet the unique requirements of your project. Leverage Vizz's expertise and let us craft fast and scalable applications for your project!

  100% Client Satisfaction   

Top Rated     

24/7 Live Support
Progressive Web Development
Services Vizz Offers
Vizz offers a wide array of efficient and highly responsive Progressive web development services that completely combine with the needs of your project. We ensure a sleek and user-friendly experience for the audience on your website.
Custom Progressive Web Development Services
Our developers are devoted to offering custom progressive web development. We first understand the needs of your project, then custom-make progressive web development to completely meet your project's unique nature. We offer customization to deliver an innovative product the way our clients want it!

Responsive Web App Design
We provide robust and fast responsive web app design for progressive web development. Our PWA is scalable and high-performance across various devices and browsers. We implement best practices to deliver scalability and usability maintainability for your progressive web development.
Progressive Plugin Development
Vizz delivers an enhanced user experience with customized plugins for your progressive web application. Our developers stay ahead of the curve, they integrate the custom plugin to suit the development needs of your unique product.

Application Shell Architecture
We deliver exceptional user experience with the shell model. Based on the application's shell methodology, our specialized developers build applications of distinctive quality. We adhere to a coherent approach and understand the nature of your product to deliver exceptional results. Our PWAs offer measurable business gains!
Industries We Serve For Progressive Web Development Services
Industry boundaries do not confine Vizz – we thrice the shape of digital excellence across a spectrum of sectors:
Our Process For Progressive Web Development
Being a global IT company, Vizz has vast experience in developing scalable, effective, and high-performance web applications. Our proficient developers keep a keen eye on each development process to create an application that exceeds your expectations.
Know Your Requirements
Our developers go through your project's requirements to deeply understand the app objectives, key goals, target audience, focus industry, and milestones. Once our development team has clarity regarding your project, we proceed to the next step.
Blueprinting
We create a blueprint depending on the previously gathered insights about your project. The blueprint includes flowcharts and sketches that further assist in determining the overall structure. We keep our clients in the loop to ensure the final results come out as expected.
Web Application Design
Vizz's specialized designers work on the color scheme, graphics, icons, templates, user experience, and more to ensure the final design is user-friendly and stunning. Our developers share the final design with our clients and gather their feedback. Changes are implemented if required.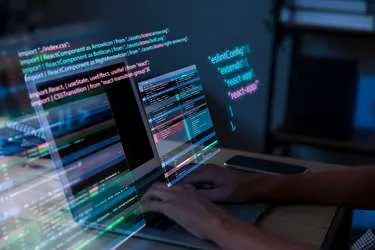 Web Application Programming
Our team of experts develops frameworks, deploys APIs, builds feature apps, adds security layers, and integrates payment gateways. We use the latest tech stack to make the process less time-consuming.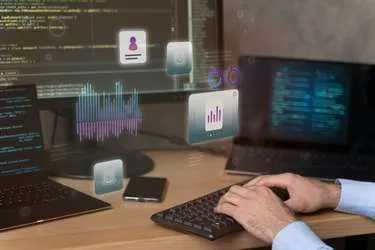 Testing And Launching
To ensure your app functions seamlessly, we implement robust testing measures. Our team of QA testers makes certain that your app is free of bugs and requires no other fixes.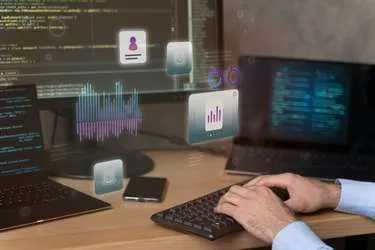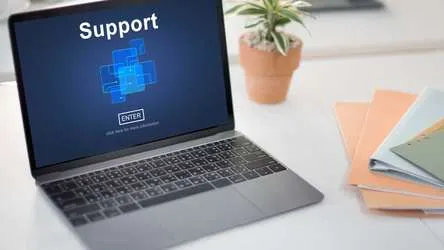 Ongoing Support
Every digital product needs maintenance and regular checkups. Our development process does not end with deployment. We provide ongoing support and maintenance to ensure our application is updated with the latest features and is functioning up-to-date.
Since 2009, Vizz Web Solutions stands as a preeminent global IT company, we have a proven track record with 1200+ cutting-edge software services delivered.
Get Connected
Request Our Portfolio
As a leading global IT solution provider company, we have delivered 1200+ successful projects worldwide. We provide web and IT solutions to startups, businesses, and entrepreneurs.
Tech Stack We Use
We provide an innovative solution with cutting-edge technologies. We choose the right tech stack to ensure that your product is qualitative and meets the unique requirements of your project.
Web Development Stacks
Front-end Stack
Back-end Stack
Database Stack
Since 2009, Vizz Web Solutions stands as a preeminent global IT company, we have a proven track record with 1200+ cutting-edge software services delivered.
Get Connected
Why Partner With Vizz For Progressive Web Development Services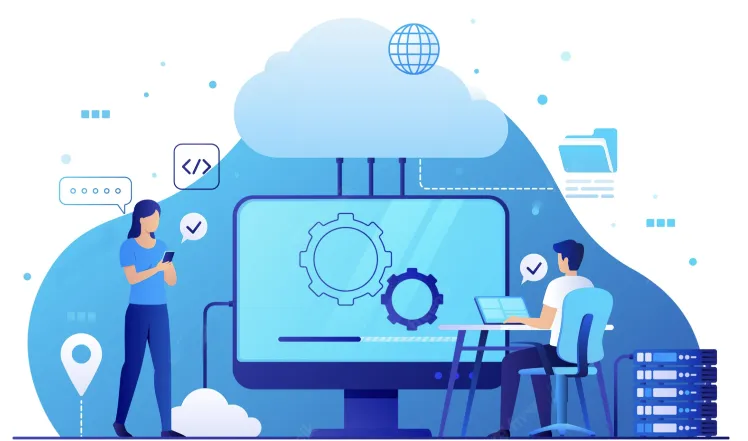 Our team possesses years of expertise in delivering cutting-edge solutions with innovation at the forefront. They leverage PWA technology and deliver exceptional results as a product
We excel in providing comprehensive business solutions.
Vizz expands your user base across billions by migrating our presence to PWA.
We embed HTTPS facility and prevent unauthorized access.
To provide an exceptional user experience, we offer a shell model for progressive web development.
We provide search engine-friendly solutions that can easily be accessed and indexed by Google SERP.
With robust PWA solutions, we provide unparalleled user experience for your end-users.
Our development process does not end with deployment, we offer ongoing maintenance and support.
Tell Us About Your Project
Have an idea in mind? Briefly share your project's unique requirements and let Vizz take care of the process ahead!
Share Your Idea.
Get a timely response from our experienced consultants.
Receive a Custom Proposal that suits your needs.
Let the development process begin.
PETER FLETCHER

Residential Settlements

Vizz Web Solutions have just completed a major overhaul on my site. I was impressed by their professionalism throughout the project. I was a pain in the butt client but they kept completing revisions until I was 100% happy with the result. I have no hesitation in recommending their services.

Doug Kyle

Digiebot

Abbas was great to work with. I have started worked with him from 2016-March. I found his team excellent in web application development. They have developed for me, my business website, some marketing tool, crowdfunding web application. I am still taking long term services from his dedicated team. Beenish is best in web designing. She is proactive, able to communicate effectively and work on multiple projects with deadlines.

Ryan Fiscar

Build LMS website (e-learning Course)

Abbas and his team are friendly and good with communication. This is the 3rd software/application that they have built for our company. This time, they built a custom coded LMS from the ground up, including courses, chats, chat notifications, support center, credit card processing gateway integration, transferred databases, etc.

Amir Danaei

Callers IQ

Best development team! I have worked with many development teams and these guys are excellent. Abbas is a great communicator and always available when you need him. I have been working with this team on a long term project and I could not be happier with the quality of work and turnaround time. Highly recommend!!

HANS HUO

Causeblast

Outstanding service, Abbas has been very attentive, assertive, and able to grasp a concept and bring it to life. With Abbas's keen and able to do approach Abbas will bring Vizz Web Solutions into new territory. I plan on sticking with these developers, and we have much to do. Thanks again Abbas and Team coding make it all happen.

KEITH ARMBRECTH

Medicare on Video

Thoroughly enjoyed working with these guys. They're prompt, good communicators and work quickly and efficiently. Will be using them again.
Methodologies Vizz Offers for Progressive Web Development
To quickly adapt to changing requirements and deliver high-quality code, we provide three major project methodologies:
Agile Development Approach
To ensure your project is completed on time and within your required budget, we extend the Agile methodology approach. Our approach assists in better communication between the development team and the product owner.
Scrum framework implementation
Vizz provides scrum framework implementation to ensure seamless self-organization towards the work goal. Our developers learn new experiences and are adept at changes through self-management.
Sprint-based development
We extend sprint-based development for quick and quality work. Our team of developers uses sprint-based development to better understand your project's needs and implement best practices to deploy innovative solutions.
Hiring Models Vizz Offer for Progressive Web Development Services
At Vizz, we offer three major Hiring models to let you choose the one that suits your project's nature!
Dedicated team Model
Harness the power of our progressive web development team exclusively aligned with your project. With transparent communication and agile methodologies, we transform your
Hire a Developer Model
Experience the ultimate flexibility with our Hire a Developer model. Maximum control while minimizing overhead, and witness your ideas come to life, one line of code at a time.

Fixed Hours Model
Efficiently meets precision with our fixed hours model. Our skilled progressive web developers diligently work to achieve milestones within the stipulated time.
Benefits Of Vizz's Progressive Web Development Services
Collaborative innovation
Expertise that empowers
Security at core
Scalability by design
Your triumph, our goal
24/7 maintenance service
Q: Android App or PWA, what should I choose for a startup?
Progressive web application is way better than Andriod applications. PWA can be automatically downloaded and updated in the background, which means there is no physical need to download or update the application by yourself.
Q: What could be the costs of progressive web development services?
The rough cost of progressive web development can vary on various factors. The process takes a very long time to reach the final results, therefore the final price may vary on the final results as well. However, the cost of progressive web development is only around $10,000 to $50,000 for the whole process.
Q: Does progressive web application have a future?
Progressive web applications possess a very bright future ahead. They combine the best of web and mobile applications while looking after the accessibility and functionality of the application on various devices and browsers. PWA has the potential to become the web application for the future!
Q: Does PAW function on all browsers?
Due to the extreme accessibility of PAW, this application runs across every browser. They can be installed as an application and can function as a web application on the websites. With a single codebase, PAW can run on various platforms and devices as well.
Since 2009, Vizz Web Solutions stands as a preeminent global IT company, we have a proven track record with 1200+ cutting-edge software services delivered.
Get Connected
Hire A developer from Vizz Web Solutions and get access to the pool of talent. We combine dedicated engineers, excellent tech skills, and dynamic project ideas to assist your business!