Custom Software

Development


Services
Our Expertise – Your Success
With 14 years in the IT industry, Vizz has deployed 1200+ successful custom solutions to businesses of all sizes. We focus on quality, providing you with cost-effective, high-quality, and efficient custom software development service that meets the needs, budget, and timeframe of your business.
Read More
As a custom software development company, Vizz aims to build a better business for you with our extensive expertise in crafting tailored solutions. We provide tailored solutions for the design, development, testing, and deployment of the software in order to completely meet the scope of your business. We ensure every aspect of your software is aligned perfectly with your vision. Let Vizz elevate your custom software to new heights on the digital landscape!

  100% Client Satisfaction   

Top Rated     

24/7 Live Support
Custom Software Development
Services Vizz Offers
As a leading global solution provider, Vizz Web Solutions has a proven track record of delivering the best solutions for IT consultants. Our end-to-end development support covers all aspects of the development process. We leverage the proficiency of our dedicated team of designers, developers, and QA testers to ensure your custom software can easily accommodate the growth of your business.
Custom Software Development
With the aim to perfectly align with your business needs, our team of expert designers and developers understand the scope of your software product. Vizz's team of experts assist you in achieving business proficiency. Each and every aspect of your software product will be crafted with a deep understanding of your business. We build secure software products that are secure and compatible with legacy systems.
Custom Software Integration
From architect designs to testing and execution, our team of tech experts takes care of each and every step of the implementation and integration. For seamless data sharing in real-time, our developers integrate APIs into your software product. Our goal is to provide you with the most efficient and scalable software product that is high-performance and free of errors.
Custom CRM Software Development
Gain access to the management of your customer's data with our custom CRM software development. Our CRM services will provide you with the capability to manage sales, deliver actionable insights, and integrate with social media. Our cloud CRM systems provide you with complete access to an ecosystem of bespoke apps.
Custom Software API Development
Gain better access to your customers. With our robust API integration, you can ensure the seamless functioning of the enterprise system. Our developers craft robust APIs that connect the data, applications, and devices.
Industries We Serve
No matter what your industry is, we have got you covered. Our tail of expertise revolves around a wide array of industries. We aim to deliver an exceptional development strategy that aims to cater to your business's unique scope.
Our Process For Custom Software Development Services
We craft each part of your custom software product with care! With the depth of expertise, Our developers design, re-design, and develop your custom software. Our team of qualified QA testers implements best practices to ensure that your custom software is high-performing and scalable.
Know Your Requirments
We help you market your product! We begin by analyzing the targeted audience. Objectives, and focus industry of your custom software project. Our developers and designers understand your business goals and implement the best practices to develop the custom software that your business needs and requirements. Once our team has clarity regarding your project, we begin with the next step.
Blueprinting
We utilize a high-level plan for your custom software development service. Depending on the scope of your project, we create the blueprint. Our blueprint consists of flowcharts and sketches. Our team of developers follows the blueprint to understand the process ahead. Our developers are hanging in the loop until the expected outcomes are deployed.
Custom Software Design
Completely landing on your project's needs, we create a stunning design for your custom software. Our expert developers work on the color scheme, graphics, icons, templates, and user experience to ensure that the final design exceeds the expectations of our developers. Our developers then share the final design with our clients, gather feedback, and implement changes if required.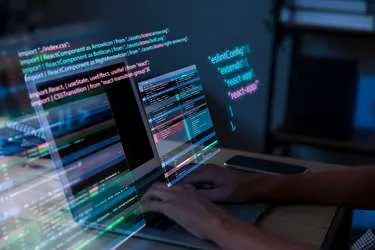 Custom Software Development
By writing codes in the chosen programming languages, our developers begin with the development process. Our developers craft frameworks and deploy APIs into your custom software. Our developers are experts at the latest tech stack and make the process quick and effective. We develop robust and high-performing custom software that effectively showcases your business.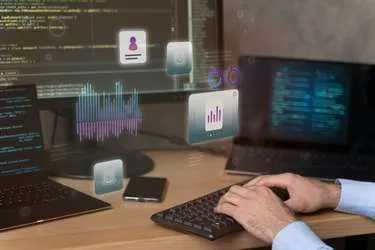 Robust Testing
Vizz's team of expert QA engineers implements robust testing measures to ensure your custom software is functional across various platforms and free of bugs. User satisfaction is essential for your custom software and our QA testers ensure that your custom software is scalable and high-performing.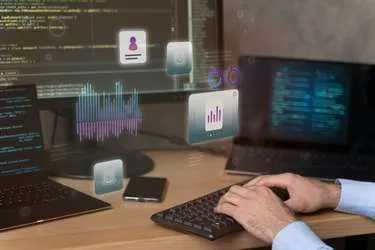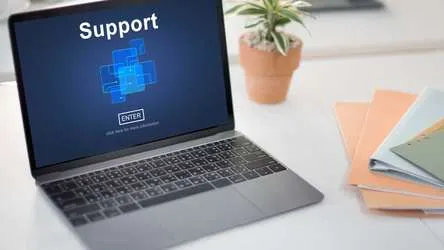 Maintenance and Support
We aim to prevent potential segregation! Our custom software development process does not end with deployment. We ensure that your custom software is up-to-date and is high-performing with the passage of time. We maintain your custom software and implement new changes with the growth of your business.
Since 2009, Vizz Web Solutions stands as a preeminent global IT company, we have a proven track record with 1200+ cutting-edge software services delivered.
Get Connected
Request Our Portfolio
As a leading global IT solution provider company, we have delivered 1200+ successful projects worldwide. We provide web and IT solutions to startups, businesses, and entrepreneurs.
Tech Stack Vizz Use
Vizz Web Solutions's team of experts leverages the latest technologies to develop outstanding software for your business. We ensure to choose the right tech stack that covers all the aspects of your software product!
Software Development Stacks
Front-end Stack
Back-end Stack
Database Stack
Since 2009, Vizz Web Solutions stands as a preeminent global IT company, we have a proven track record with 1200+ cutting-edge software services delivered.
Get Connected
Why Partner With Vizz For Custom Software Development Services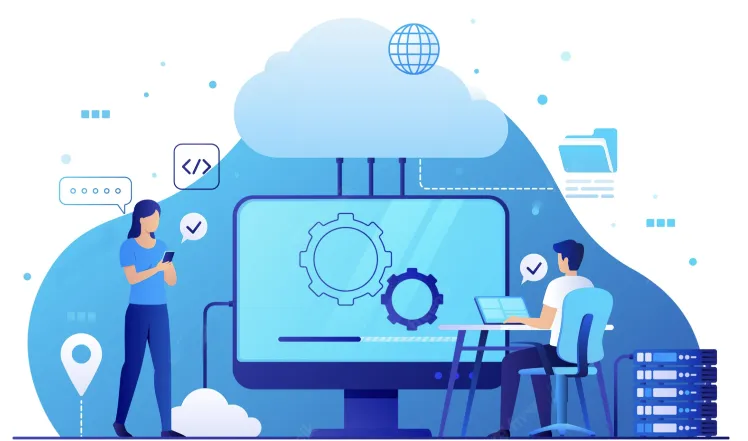 Vizz Web Solutions has dedicated 14 years of expertise in providing IT solutions to businesses of all types. We serve a wide array of industries and yours is one of them. We aim to cater to the unique needs of your business through major methodologies. Our product manager, engineering manager, software architect, software developers, designers, QA testers, and team leads work closely to ensure the outcomes align with your project's needs.
We consist of senior-level developers.
Our team utilizes the latest technologies.
We enable transparency and scalability.
Our team offers best-fit tech solutions.
Custom software development services
We design and develop robust architectures.
Tell Us About Your Project
We understand your project's scope, we understand your industry! Share your project's requirements and get a timely response!
Briefly share your requirements.
Receive a custom proposal.
Start your development process.
PETER FLETCHER

Residential Settlements

Vizz Web Solutions have just completed a major overhaul on my site. I was impressed by their professionalism throughout the project. I was a pain in the butt client but they kept completing revisions until I was 100% happy with the result. I have no hesitation in recommending their services.

Doug Kyle

Digiebot

Abbas was great to work with. I have started worked with him from 2016-March. I found his team excellent in web application development. They have developed for me, my business website, some marketing tool, crowdfunding web application. I am still taking long term services from his dedicated team. Beenish is best in web designing. She is proactive, able to communicate effectively and work on multiple projects with deadlines.

Ryan Fiscar

Build LMS website (e-learning Course)

Abbas and his team are friendly and good with communication. This is the 3rd software/application that they have built for our company. This time, they built a custom coded LMS from the ground up, including courses, chats, chat notifications, support center, credit card processing gateway integration, transferred databases, etc.

Amir Danaei

Callers IQ

Best development team! I have worked with many development teams and these guys are excellent. Abbas is a great communicator and always available when you need him. I have been working with this team on a long term project and I could not be happier with the quality of work and turnaround time. Highly recommend!!

HANS HUO

Causeblast

Outstanding service, Abbas has been very attentive, assertive, and able to grasp a concept and bring it to life. With Abbas's keen and able to do approach Abbas will bring Vizz Web Solutions into new territory. I plan on sticking with these developers, and we have much to do. Thanks again Abbas and Team coding make it all happen.

KEITH ARMBRECTH

Medicare on Video

Thoroughly enjoyed working with these guys. They're prompt, good communicators and work quickly and efficiently. Will be using them again.
Methodologies Vizz Offers
Our goal is to entirely approach your business ideas and make the software development process smooth, manageable, and effective. To simplify the tasks and accelerate the process, we leverage major methodologies. As a software development methodology, Vizz Web Solutions ought to know how to explore your business requirements!
Agile Software Development Approach
To ensure your software project is completed on time and within your required budget, we extend the Agile methodology approach. Our approach assists in better communication between the software development team and the product owner.
Scrum Software Framework Implementation
Vizz provides scrum framework implementation to ensure seamless self-organization toward the work goal. Our developers learn new experiences and are adept at changes through self-management.
Sprint-based Software Development
We extend sprint-based development for quick and quality work. Our team of software developers uses sprint-based development to understand your project's needs better and implement best practices to deploy innovative software solutions.
Hiring Models Vizz Offer for Custom Software Development Services
Hire our expert custom software developers from Vizz Web Solutions and take your business to new heights. Whether you're a startup or a renowned business, we are proud to deliver the best results to elevate your business! We offer three major hiring models, choose the one that fits your project's scope.
Dedicated Team Model
Harness the power of our dedicated custom software development team exclusively aligned with your project. With transparent communication and agile methodologies, we transform your vision into a reality.
Hire A Developer Model
Experience the ultimate flexibility with our Hire a Developer model. Maximum control while minimizing overhead, and witness your ideas come to life, one line of code at a time.

Fixed Hours Model
Efficiently meets precision with our fixed hours model. Our skilled custom software developers diligently work to achieve milestones within the stipulated time.
Benefits Of Vizz's Custom Software Development Services
Scalable Software Development
User-centric UI/UX design
Commitment to Quality
Timely Delivery
Leverage the latest tech stack
Domain expertise at hand
24/7 hours Support
FAQs For Custom Software Development Services
Q: What is a custom software development?
Custom software prefers customized development of software. We tailor-make software products to align with the needs of our client's business. We focus on designing and developing the software and implementing new changes according to the client's vision.
Q: What are the different types of custom software?
 Entirely, there are six types of custom software. Those types include CRM (Customer relation system), CMS (Content management system), and ERPS (Enterprise resource planning system).
Q: Why choose custom software development?
Choosing custom software development grants you the opportunity to implement changes to your software as per the needs of your own business. One of the major benefits is robust security. You get more access to the security technologies that will be integrated into your software.
Since 2009, Vizz Web Solutions stands as a preeminent global IT company, we have a proven track record with 1200+ cutting-edge software services delivered.
Get Connected
Hire A developer from Vizz Web Solutions and get access to the pool of talent. We combine dedicated engineers, excellent tech skills, and dynamic project ideas to assist your business!